Salary Disclosure Laws Can Help Create Pay Equity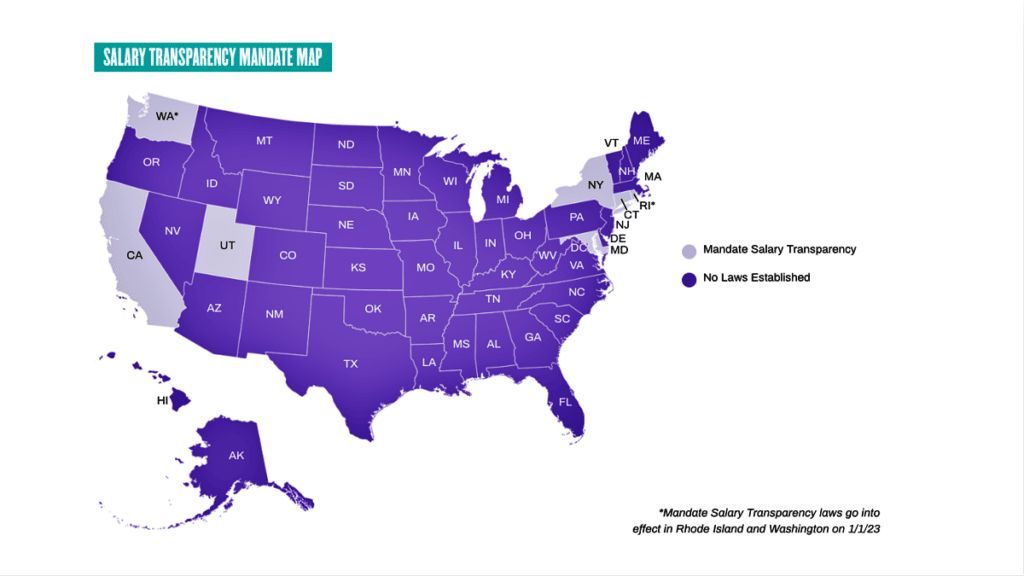 Estimated reading time: 8 minutes
You've probably been reading a lot of information lately about salary disclosure laws. As of today, five states (CA, CO, CT, MD, and NY) require employers to share pay ranges and two (RI, WA) will be starting in January 2023. This is a trend that organizations should pay attention to and learn more about. 
Monster recently conducted a poll about salary disclosures with some very interesting results. Nearly all workers (98%) believe employers should disclose salary ranges in their job postings, and more than half (53%) would refuse to apply for a job that does not disclose the salary range. To learn more, I reached out to Vicki Salemi, Monster's career expert. Monster has created a Salary Disclosure Hub to help organizations and individuals learn more about salary disclosure laws and their impact. 
I know I don't have to say this but as a reminder, the world of employment law can move pretty quickly at times. Please remember that Vicki's comments shouldn't be construed as legal advice or as pertaining to any specific factual situations. If you have detailed questions, they should be addressed directly with your friendly neighborhood labor and employment attorney.
Vicki, thanks so much for being here. There's been a lot of conversation about "salary disclosure" laws. In a few sentences, what is a salary disclosure law?
[Salemi] Overall, salary disclosure laws require employers to share ranges of the job's salary within the job description advertisement; essentially, pay transparency. It may vary by state with minor tweaks. For instance, in New York City it pertains to employers with four or more employees, or one or more domestic workers as long as one of the employees works in NYC.
How do salary disclosure laws align with "salary history bans" where employers cannot ask a candidate for their salary history?
[Salemi] They're under the umbrella of pay equity. Salary history bans prohibit employers, in many states, from asking a candidate for their salary history. When I worked in corporate recruiting, there were often two sets of questions to ask up front: salary expectations and current/former salary. Now, salary history bans help employers and candidates focus on the first set – someone's salary expectations.
Salary disclosure laws can help job seekers set their expectations for the job they're pursuing by having access to the range. They also help shape the framework of job seekers who know their worth and know what the job pays before they apply. Additionally, it helps current employees see their company's job postings to check if their current pay is on par with what the company plans to pay new hires.
Many workers are optimistic about how salary disclosure laws may positively impact the future of work. According to a recent Monster poll, 53% believe it will lead to salary equity and smaller or no pay gaps and 43% think it will result in overall higher wages for all workers.
What are the advantages and disadvantages for employers subject to salary disclosures?
[Salemi] There are several advantages to employers. For starters, it's a step in the right direction for pay equity – they're part of the solution. In addition, they're remaining competitive with other employers who are all vying for the same talent.  
This also helps eliminate salary conversations that are usually involved while screening candidates. As a corporate recruiter, I was the initial gatekeeper to scheduling a first interview with the hiring team. Salary always had to be addressed during the phone screen to see if we were on the same page to be cognizant and respectful of everyone's time and energy.
This is a total game changer and addresses salary up front, thereby saving time for the employer. They can go into that phone screen with the assumption that candidates are on the same page since the salary range was disclosed.
One disadvantage, and I say this facetiously, is that employers who don't abide should anticipate being held accountable. If an employer violates salary disclosure laws, from Monster poll data, more than three out of four (77%) workers would consider reporting them to the authorities. Aside from that, it's less than likely they'll apply to the job, and it could be harder for the company to attract and hire candidates.
Another disadvantage, which only applies to employers who aren't above board, is they may be underpaying their employees and resent the fact that salary ranges are easily accessible, especially when it's a job posting for the same or similar job.
Again, salary disclosure is a step towards pay equity — these facetious disadvantages don't apply to employers who are above board with abiding by the disclosure law and paying current workers fairly. This holds employers accountable.  
That said, one in five workers (22% per Monster data) are concerned that salary disclosure can create tension between colleagues due to unequal pay; 18% believe it will bring more pay discrimination lawsuits against employers.
And what are the advantages / disadvantages for candidates applying for jobs where salary disclosure exists?
[Salemi] Advantages for candidates include knowing the range the job pays in states where salary disclosure exists. Another pro is they can advocate for themselves internally. According to Monster data, almost half of workers (40%) would use salary disclosure as leverage to get a raise at their current job if they saw a posting for their role or similar one from their employer with higher pay.
Disadvantages: the range may be broad — that's why it's important for the job seeker to do external research (i.e., contact former bosses, colleagues, industry association organizations, etc.) to find out where their salary should fall within the range. 
This isn't so much of a disadvantage, but more of a yellow caution light: don't only look at salary as the only criteria for whether to pursue a job. While 61% of respondents in the Monster poll said salary is their top consideration in looking for a new job, a significant number, 39%, said they also factor work-life balance, benefits, and perks first.
So, the salary range is certainly useful information for job seekers, but it's not the only information to rely on when deciding whether to pursue a job to determine if it's the overall right fit.  
One of the things I'm starting to read about are organizations posting a ridiculously wide salary range – like $0 to $2M. I can't help but think this makes the employer look petty. What advice do you have for organizations thinking these wide salary ranges are a good strategy? 
[Salemi] It's a good strategy for employers to be as realistic as possible with a range that is feasible. Posting a wide salary range is counterintuitive to this law.
Job seekers are savvy. They'll see right through it. If a company isn't truthful about a salary range, it can cause the job seeker to skip right over it. They may wonder what else is broad and vague in the job description, not even bother to evaluate it, and immediately move onto another job posting from an employer who's transparent and realistic. It's in an employer's best interest, especially in this tight labor market, to do the best they can to be accurate with the range.
As with anything new, as this rolls out there will likely be hiccups here and there and it is normal for some ranges to be broad or overlap (for instance, a senior associate may be $65K to $90K whereas the next level, a manager, may be $80K to $100K), but if organizations think extremely wide salary ranges are a good strategy like $0 to $2M, they should think again.
How are job boards, like Monster.com, informing employers that they must post salary ranges? 
[Salemi] We've communicated with our customers about the new salary transparency laws and require that employers comply with all laws.
Last question. We discussed earlier the advantages and disadvantages to salary disclosures. If I'm operating in a state without disclosure laws, could it be a competitive advantage to post them anyway?
[Salemi] Yes, it's definitely a competitive advantage for employers to post salaries anyway even if they operate in a state without specific disclosure laws.
There are a few reasons: Job seekers may become accustomed to seeing salaries disclosed on job postings. As you mentioned earlier, an overwhelming majority (98%) believe employers should disclose salary ranges in their job postings and more than half (53%) would refuse to apply for a job that doesn't disclose the range!
For example, if a job seeker lives in Hoboken, New Jersey and they're looking for jobs in NYC, they'll see salary range after salary range for jobs in Manhattan. It's a valuable discerning piece of information for the jobs they're applying to. Then, the same job seeker may toggle to jobs in NJ and not see any salary ranges since it's not required by law. It's in a company's best interest to stay competitive. In the spirit of transparency in this example, it may be beneficial for NJ employers to post salary ranges anyway even if they're not required to do so by law. That job seeker may promptly skip right over jobs, even ones that may be a fit, because they don't have salary information.
This transcends beyond location as well with so many job seekers looking for hybrid or remote work. A job seeker looking for remote work in a state that doesn't require salary transparency may not be able to make an adequate conclusion about whether to apply for a job posting that does not disclose salary and simply skip over it.
A huge thanks to Vicki for sharing this information with us. I hope you'll take a moment to check out Monster's Salary Disclosure Hub for additional information and updates. 
My two cents: no one wants to waste time during the hiring process. Candidates don't want to interview 2, 3, or more times only to find out their job requirements aren't in the range. Organizations don't want to do it either. Having conversations upfront about pay only make sense. In fact, why not just post the range so that people know this information before they apply. That way the hiring process is focused on the candidate and company getting to know each other. 
The post Salary Disclosure Laws Can Help Create Pay Equity appeared first on hr bartender.
​