Empower Your People and Business: UKG FREE HR and Payroll eSymposium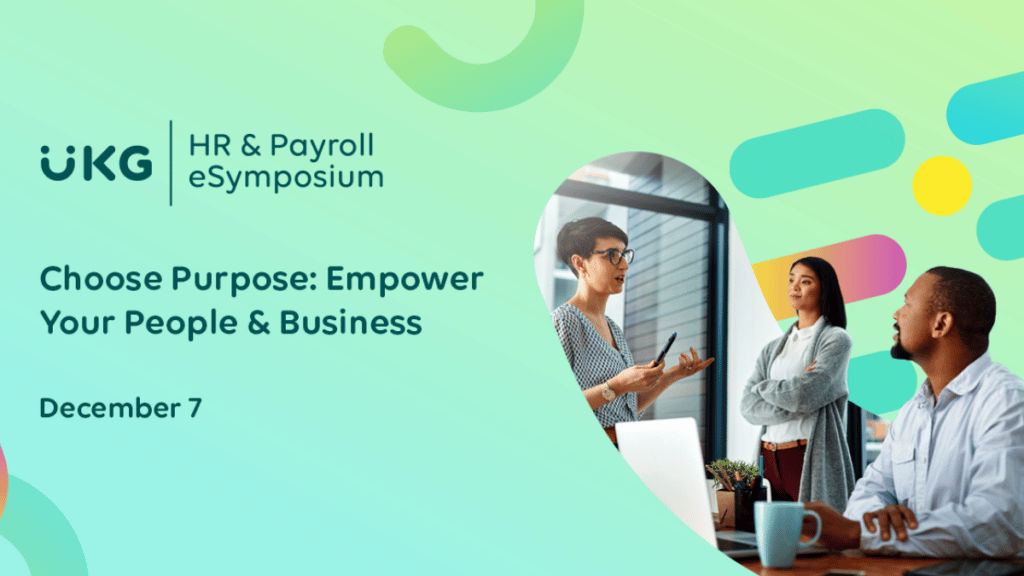 (Editor's Note: Today's article is brought to you by our friends at Ultimate Kronos Group (UKG). Each month, UKG shares a workforce activity report which takes a deeper diver into labor index data. Check it out the latest report. Enjoy the article!)
As we're approaching year end, one of the things I'm looking for are professional development events that are focused on future business trends. I want to hear from quality speakers who will challenge me and get me ready for the new year.  And it's a huge bonus when the event is FREE – especially with current travel costs! 
If you're doing the same thing, then this is your reminder that the UKG HR & Payroll eSymposium is coming up on Wednesday, December 7, 2022, from 10a to 4p Eastern. The theme is "Choose Purpose: Empower Your People & Business" which I think is a very timely topic. Organizations are very focused on performance and results right now. HR and payroll are key to a high-performing organization. Here's some more information about this virtual program: 
Choose Purpose: Empower Your People & Business
The eSymposium is divided into four tracks: find your purpose, deliver purposeful payroll, craft a purpose-driven culture, and connect people to purpose. You can check out the entire agenda and speaker profiles by visiting the UKG website, but I did want to share a few of the sessions.
Overcome Overthinking: Making Decisions to Get Things Done – Analysis paralysis, or the all-too-familiar act of overthinking, is not uncommon in life or business. Are there processes that you know you need to change, but you just haven't done it? This session will explore ways to become unstuck — by knowing the signs and symptoms of analysis paralysis and following the concept of the four "Ts" to propel you forward! (Side note: I spoke to Julie Develin, SHRM-SCP in an episode of The HR Bartender Show last season so I know this will be a great session.)
Financial Wellness in The New Era of Payroll​ – On the surface, payroll doesn't look like one of the areas of the business that needs major changes. But the reality is, much has changed over the last several years when it comes to the role payroll plays in an organization. Today's payroll professionals are expected to help employees feel more supported, engaged, motivated, and financially confident at work and at home through a more people-centric payroll approach.  
Finding a Cure for Quiet Quitting – You've likely heard of "quiet quitting," where employees actively decide to not go above and beyond in their roles. It's taking the working world by storm and it's probably happening at your organization right now. While employees decide to quietly quit for a variety of reasons, what if you could prevent quiet quitting from happening in the first place? Dr. Chris Mullen,SHRM-SCP, executive director of The Workforce Institute at UKG, is joined by a panel of culture experts to discuss how to inspire your people at work. ​
An Inside Look Supporting and Leading Employee Resource Groups (ERG)​ – Employee Resource Groups (ERGs) are a strategy that organizations use to better engage, support, and retain their employees while also strengthening their diversity, equity, inclusion, and belonging (DEIB) initiatives. Join this session to hear from DEIB and ERG leaders on best practices for creating an ERG framework, how organizations can set ERG leaders up for success, and how ERG leaders can set themselves up for success. ​
I know we're focused on a lot of things right now. And I'm sure there are days when we say to ourselves that we can't possibly think about taking time off to attend a professional development program. But we must find the time. We need to take some of our own advice. If a manager or employee came to us about not having time for learning, we'd tell them that "developing our knowledge and skills makes us better at our jobs". And it's true. 
UKG eSymposium: 4 Reasons You Should Attend
I've been participating in the UKG eSymposiums for a few years and find them to consistently be a high-quality learning opportunity. Here are four benefits of attending this event.
The content is relevant and high-quality. One of the things that I really like about this event is that it brings together HR and payroll. I've been responsible for both a few times in my career, and this is one of the few events that has topics which are relevant to both. Since the event is free, your organization can have multiple people attend, and then maybe set up a meeting to discuss the sessions. It's a great way for HR and payroll to learn from each other.
The sessions will be recorded. If you're not able to attend the live sessions, no worries. Most sessions will be made available on demand. That way if you're torn between two sessions then you can listen to one live and the other on demand. Or if you do have to step away, you can still listen to the recording and not miss out on the information. I must admit there are times when I prefer listening to the recordings. It allows me to schedule my learning over time. 
It's approved for recertification credits. The sessions have been pre-approved by the Society for Human Resource Management (SHRM) and the Human Resources Certification Institute (HRCI). In addition, many have been approved by the American Payroll Association (APA). And for my Canadian friends, this event is also pre-approved by the Human Resources Professionals Association (HRPA), Chartered Professionals in Human Resources Saskatchewan (CPHR-SK) and the National Payroll Institute (NPI). UKG will be providing a certificate of participation for your files. Recertification credits are important, especially if budgets are tight.
It's FREE. Speaking of watching budgets, when we can find a good, free event, we need to take advantage of them. Because let's face it, sometimes free things are good and sometimes … well, they're not. And as much as we might want to travel to an event right now, the cost of travel is pricey. This is one of those good, free events.
HR and Payroll: Time to Focus on Our Professional Development
The UKG eSymposium for HR and payroll professionals is designed to deliver education on the topics we face every day and could potentially face in the future. It has, what I believe, are the benefits many of us look for in professional development opportunities: 
1) high-quality content, 
2) no cost to attend, and 
3) pre-approved for recertification. 
We all know this doesn't happen very often. Find some time to focus on your professional development. It's important. Sign up for the UKG eSymposium. Here are the registration details:
Choose Purpose: Empower Your People & Business 
Wednesday, December 7, 2022, 10a to 4p Eastern
Look forward to seeing you there!     
The post Empower Your People and Business: UKG FREE HR and Payroll eSymposium appeared first on hr bartender.
​