Change Management [Season 2 Episode 2] The Role of HR in Managing Organizational Change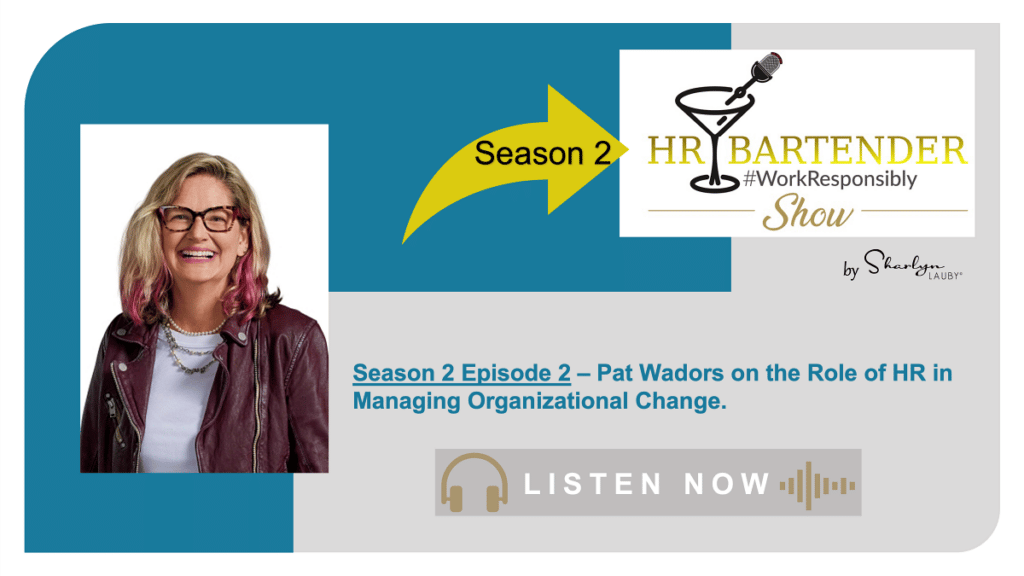 Estimated reading time: 3 minutes
HR professionals are often referred to as change agents. So, how does Human Resources help the organization through a change effort? Well, sometimes it's about leading through effective communication. 
In this episode, I chat with Pat Wadors, UKG's chief people officer (CPO). Pat oversees the critical Human Resources functions that bring the employee experience to life, including talent acquisition and development, compensation and benefits, employee listening and people analytics, employee communications, HR technology, HR business consultants and shared services, and components of workplaces services and physical security. Her personal mission is to ensure that U Krewers around the world are better people for having worked at UKG. 
Pat believes that organizations thrive when they have a blend of people with differing backgrounds and ways of thinking, and who feel they belong as a contributor to the company's success. As a multiple recipient of the National Diversity Council's Top 50 Most Powerful Women in Technology, Pat is a frequent speaker on HCM, diversity, and inclusion issues, and has served on the board of several prominent technology companies. Prior to UKG, Pat served as CPO of Procore Technologies, and has held multiple leadership roles at ServiceNow, LinkedIn, Plantronics, Inc., and Yahoo!
Organizations run the risk of losing their competitive advantage to change if they get too big, too siloed, or too busy to communicate. One of the ways HR professionals can take the lead in an organizational change effort is by building relationships with the management team. By showing empathy and being there to talk through challenges, HR professionals can give managers the tools to process change. Even the unpleasant changes that we can't always control. 
Connect with Pat Wadors 
Twitter:            @wadors (https://twitter.com/wadors)
LinkedIn:          https://www.linkedin.com/in/patwadors/
During our conversation, Pat mentioned the phrase "touching the elephant", which is from an old parable about blind men touching an elephant. She also cited Brene Brown and "honest rumbles". And lastly, we mentioned servant leadership and consensus building, so I wanted to share a couple of articles in those areas. 
Since this episode had a focus on frontline managers, if you're interested in learning more about frontline manager training, check out this UKG white paper "Training Frontline Managers: 5 Critical Skills for Success". 
Season 2 Episode 2 – Pat Wadors Show Notes
Season 2 Episode 2 – Pat Wadors Transcript
Thanks for listening to our podcast. This season of the HR Bartender show is brought to you by our friends at Ultimate Kronos Group (UKG), a leading global provider of human capital management, payroll, HR service delivery, and workforce management solutions. 
You can subscribe to the HR Bartender show on Apple Podcasts, Spotify, Google Podcasts, Stitcher, and TuneIn. And we would absolutely love it if you would leave a review. 
If you enjoyed this episode, be sure to check out other episodes on our podcast page. 
The post Change Management [Season 2 Episode 2] The Role of HR in Managing Organizational Change appeared first on hr bartender.
​