'Merica Monday: A visit home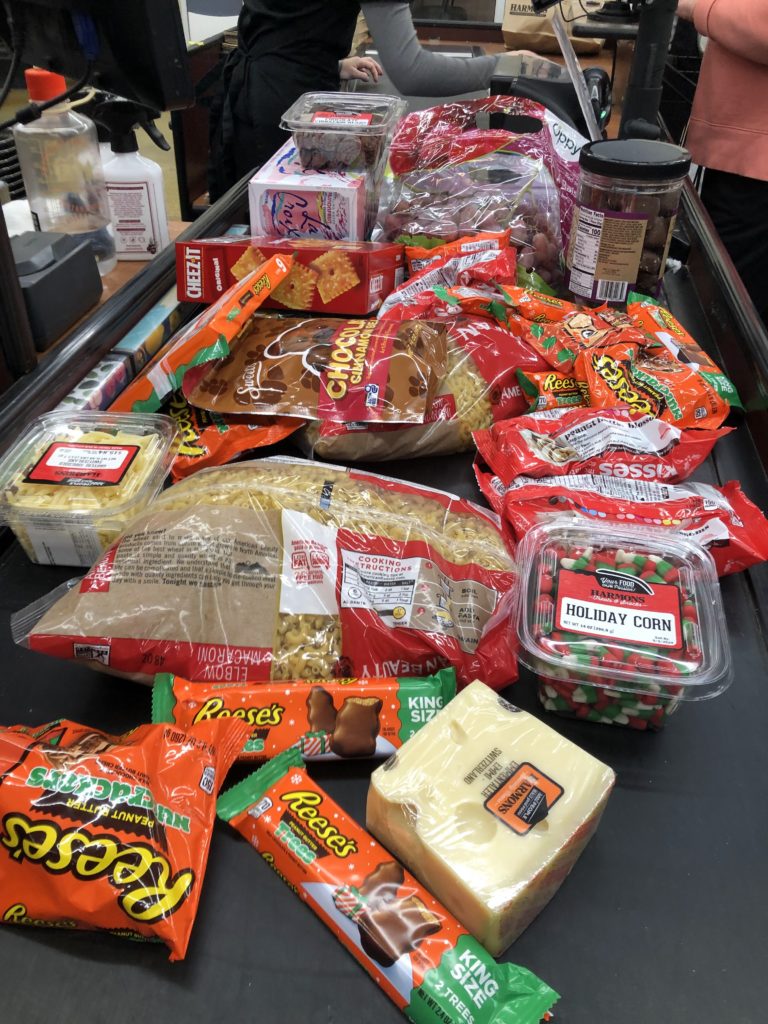 Do those of you who live in the United States have any idea how deprived of Oreo variations the rest of the world is? No, you probably don't, because you simply go to Walmart and pick up whatever Oreos you want at any time you want. What a country!
These were some of the thoughts Offspring #2 and I had when we made our way to Walmart at 6:00 am on December 26. We flew from Switzerland on December 24 (big shout out to American Airlines and British Air for rerouting us so that nasty storms didn't ruin our holiday trip). Sure, celebrating Christmas with the family is fun, but going shopping? That's the real fun of a trip to America.
LIsten, dear readers, Walmart–and really all the massive stores in this country–are crazy. The variety of things you can buy are completely overwhelming. Cream cheese chips for cookies? Check. Mass quantities of chocolate covered salted caramels? Check. Cheetos and Takis in all their varieties? Check. Cereal with marshmallows in it? Yum. Diet soda in all sorts of flavors? Amazing.
However, that does not mean that America is perfect. You all suffer from a severe lack of bubble water. I pay approximate $0.30 for 1.5 liters of sparkling water in Switzerland. I paid $1.10 for .5 liters at Walmart. But flavored bubble water was everywhere. Flavored is fine, but plain bubble water is where it is.
And shall we talk about Costco? First of all, they had winter coats for $29.99! I almost bought coats we didn't need just because they were so cheap. But then I remembered, I'm poor and that would be a waste of money.
The customer service here is so weird, coming from Switzerland where shops and restaurant employees act like you should be grateful they decided to let you in. And, it's so weird here, that I can find a restaurant open at 3:00 in the afternoon. Fast food is open at that time in Switzerland, but nothing else. No, we eat on schedules in Switzerland, and lunch is finished by 2:00.
But honestly, there are some things that drive me absolutely bonkers here. First is sales tax. Yes, Switzerland has sales tax. Lots of it. (Referred to as VAT–or value added tax.) But it's included in the price on the shelf. If it says 2,00 on the shelf, by golly you pay 2.00. I hate, hate, hate that they add tax on at the end here. How dare they  make me do math in my head.
See also, tipping. Sure, in Switzerland you tip at a restaurant but a franc or two or maybe five francs for a 100 franc meal. (The franc and the dollar are roughly equal.) But certainly not 20 percent that is expected here. I've defended the tipping practice before because servers tend to make more money that way, but boy is that annoying.
Driving everywhere is also weird. I don't own a car as it's not necessary where we live. We use public transportation or we walk just about everywhere in Switzerland. If we need a car I can rent one through care sharing by the hour. So driving everywhere is absolutely different. My dad lent us his 1996 Toytoa pickup truck though, and it is awesome.
And speaking of differences, what is up with all the people flying in pajama pants? I mean, I'm not opposed, but the Phoenix airport was full of people in pajama pants. I presume this was because it was Christmas morning when we flew out of Phoenix and they had gotten Christmas jammies and now were wearing them to grandma's house? I don't know. I'll see when we fly back to Switzeland on Wednesday. Although, honestly, now I'm thinking about flying in my pajama pants.
Houses are weird here too. We're in my home town of St. George, Utah, where the population is exploding. New construction everywhere but all with these McMansions. My original plan was to return to St. George when I leave Switzerland, but honestly, I don't think I can afford to come back here unless you people start sending me money. After 14 years of apartment living houses here seem so big. I've adapted to smaller accommodations and have no desire to return to the McMansions of my younger years.
We did even have a positive interaction with the healthcare system here. Offspring 2 had been through two rounds of antibiotics for strep throat before we left Switzerland. He took his last pill on Christmas day and by Thursday it had flared up again. So, off we went to the Corner Clinic, where they take cash and Medicare, which suited us just fine as we don't have US based insurance. $130 later we left with a prescription for yet a different antibiotic, walked next door to the pharmacy and for $19.99 more got it filled. (We will submit to our Swiss health insurance and the will cover it as we have global coverage, something that is awesome.)
Which brings us to another weird thing about America: Pharmacists have to count pills. In Europe pills come pre-packaged and so you go in, hand you prescription over and the pharmacists plucks it off the shelf and you go on our merry way. Here the pharmacist has a big bottle of pills and she has to count them. We asked the cheerful and customer-service-oriented pharmacist why and she said that she can order them in prepackaged amounts but the cost more and the reimbursement she gets from the insurance companies is so small she can't afford to order such a thing. (We were in a small, independent pharmacy.) I still think there is some sort of math problem here and you have to pay a fairly high hourly rate for a pharmacist so are you really saving money when ou could process more pills if you bought the pre-packaged stuff? Someone please explain to me.
Despite illness, we were still able to do all sorts of fun things, like going into the desert and shooting targets. I'm a terrible shot, but Offspring #2 is in a shooting club in Switzerland and his uncle taught him how to shoot skeet which he successfully did. Not only did I not shoot anything out of the sky, I felt very happy when I got close enough to a target to rattle it slightly.
Anyway, it's fun to be with my family, and the offspring had lots of fun with their couins. Offspring #1 is staying for six additional weeks because she does online school and can do it just as easily from here as she can from home. Offspring #2 and I return to Switzerland on Wednesday where we will once again suffer from a severe lack of tacos and high fructose corn syrup. God bless the USA.
The post 'Merica Monday: A visit home appeared first on Evil HR Lady.
​