Career Ladder or Career Lattice: Which One is Better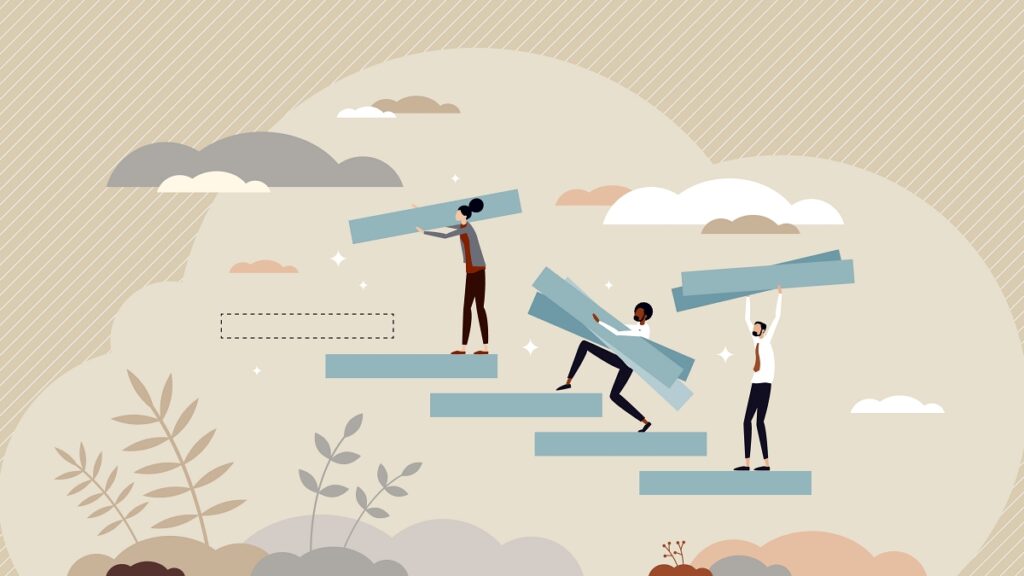 Estimated reading time: 5 minutes
(Editor's Note: Today's article is brought to you by our friends at Criteria, a company dedicated to helping organizations make evidence-based talent decisions that drive better outcomes. They recently launched a new assessment, Illustrait, which enables organizations to identify candidates with the competencies necessary to succeed in their roles. Enjoy the read!)
As organizations try to fill job openings, one of the conversations they should be having is about internal mobility, which is focused on filling openings with current employees. It can happen via promotion, lateral, transfer, or demotion. 
Internal mobility is not only great for filling jobs, but also for keeping employees. In an article on the Society for Human Resource Management (SHRM) website, they cite a LinkedIn study that says employees who change jobs via promotion or laterally have up to a 70% chance of staying with the company. However, for internal mobility efforts to be successful, organizations need to think about how they can create opportunities and communicate them to employees. One way is to present internal mobility in terms of career ladders and career lattices.
Career ladders are often viewed as job promotions. It's when an employee moves into a position of greater responsibility, skill, and authority. And it traditionally includes an increase in salary and/or benefits. An example would be an employee who moves from customer service representative to customer service manager. 
Career lattices also involve job movement but as the term lattice implies, it can take place in any direction (i.e., promotion, lateral, or even demotion). For instance, a customer service manager might accept a new role as a sales manager. They're both manager positions but in different areas of the organization. 
The good news is that regardless of whether we're discussing a career ladder or lattice, there are tools that organizations can use to simplify the process and still set the employee up for success. Before I get into those specifics, let's discuss the advantages and disadvantages of each.
Career ladders and lattices have definite advantages and disadvantages for organizations and individuals. It's important to consider both the short-term and long-term implications of each as job openings present themselves. 
Career Ladders: Advantages and Disadvantages
Most of us are familiar with the concept of career ladders. Managers and HR know how to discuss careers in terms of career ladders, and they can offer advice and support when they know that employees want to move up using a traditional career ladder strategy. 
A big advantage to the career ladder model is the ability to specialize in an area. Employees can attend training and development programs to upskill or reskill. The organization might be willing to pay for the employee to get a certification or attend a certificate program. 
A disadvantage might be that employees miss out on exposure to the rest of the organization. In some situations, this might not be a big deal. But in others, it could hold the employee back because they lack being able to see the "big picture" or they haven't built an internal network around the company.
Career Lattices: Pluses and Minuses
Career lattices are a little trickier to navigate. There are often no proven rules or paths for a career lattice. This can make it difficult for the organization to support an employee because they don't have a history of successes to share. 
The good news is, because career lattices are so flexible, employees have many different paths to career success. One plus side is gaining exposure to the rest of the organization. Not only being involved in a variety of different projects but building relationships with people they might not typically work with. This could be valuable for long-term career success. 
Speaking of long-term, the minus could be that it may take longer for an employee to achieve their career goals. If an employee chooses to take a lateral move or even a downward one to gain experience, it might take an extra step (or two) to ultimately get the job they've been wanting. Granted, the employee enters that new role with extra knowledge and skills, but that's a tradeoff both the employee and organization would have to accept.
Both Career Ladders and Career Lattices are Necessary
It shouldn't be a surprise that both career lattices and career ladders are necessary for the organization to properly staff the organization and the employee to achieve their career goals. The key is understanding what the options are and when to opt for a lattice or ladder.
The good news is that there are tools like Criteria's Talent Insights that can help. Talent Insights is a platform that compiles individual data in the areas of work habits, interactions, temperament, and attitudes. These insights allow individuals to grow at the jobs they have and the ones they want in the future – whether that's via a ladder or lattice. It also allows them to develop individually as well as a member of the team. If you haven't checked out the portfolio of assessments offered by Criteria, you can sign up for a free 21-day trial on their website. 
Speaking of ladders and lattices, it important to remember that organizations and individuals don't have to exclusively use one or another. Employees might say, "Maybe this next opportunity, I'll take a lateral and for the next one, I'll go for a promotion."
The more employees understand their career options, the better equipped they are to manage their career goals. And the more employees can manage their careers, the better the organization will be at finding, engaging, and retaining the best talent.
P.S. I'd really like to keep this conversation going about developing talent for internal mobility. It has huge advantages for organizations and employees. I hope you can join us for a webinar on "Talent Mobility: Developing High Potential and Performing Employees". It's scheduled for Wednesday, November 2, 2022, 10a Pacific / 1p Eastern. And as always, if you are already booked, sign up to get the recording. Thanks!
The post Career Ladder or Career Lattice: Which One is Better appeared first on hr bartender.
​